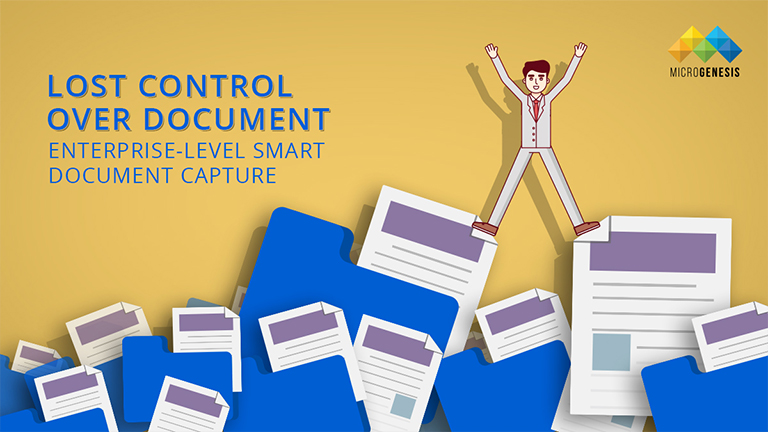 It's Monday morning and your impending duties are awaiting your arrival at work, not just that, a set of collateral documents that are in desperate need of your supervision is piled up expecting your urgent response and care.
Wishing that you didn't have to head to work as you would end up cascading into a pile of monotonous and dull worksheets that swamps you with immense work pressure unnecessarily?
Realise the importance of your valuable time that tends to get lost in translation by just organising your documents for delivery. Simplify your mundane tasks and initiate a method of staying ahead of your deliveries.
Introducing Ephesoft Transact, an intelligent document capture and classification solution that extracts meaningful data from documents no matter the format or how you receive them. Exponentially accelerate your business transactions and take advantage of your work situation.
Classify, optimise and trickle down your workload to smaller nuggets and refrain from overcomplicating daily tasks by enabling our classification technology and allowing organizations to automate and streamline mailroom processing and other document-based business processes.
Our Smart Capture solution can identify the information you need without manual data entry, without time-consuming document sorting or scanning separator sheets with barcodes.
This solution provides your downstream ERP / BPM solution with extracted information, that is error free thereby avoiding any risks and costly lawsuits.
Automate and Elevate above your competition.
Power your business with Ephesoft, your personalised technology solution that initiates information capture that drives efficiency and reliability, by incorporating next-generation intelligence into the system that has proven to be simple and cost-effective.
How do we do it?
By using open standards and web-based software that offers flexible and accessible solutions spread across an array of customers that continue to expand, switching to modern capture-and-extract solutions that save time and drives efficiency.
Increase the productivity of your workforce by 400% and unlock trapped documents by adding us as your partner and using our tried and tested Smart Capture technology on-premise or in a SaaS model. Smart capture technology uses supervised machine learning to recognize any field no matter the location on the pages provided. With a focus on efficiency and reliability, Ephesoft has crafted the next generation of intelligent document capture.
Witness the advancements in your company and prevent inconsistencies and keep processes predictable, auditable and timely. Make more informed business decisions with real-time visibility into key performance indicators and metrics. Allow your businesses to make informed decisions with the key aspects of better performance and metrics.
Enterprise Information Management + RPA
Leverage Ephesoft's enterprise-level smart document capture solution-Transact with RPA tools to stay at par with the evolving digitised industry. Financial institutions are
already using Ephesoft Transact with RPA for a variety of used cases, including new account
openings, loan approvals and trade finance, AP & AR automation.
Our application's flexibility and ease of integration creates a powerful smart automation platform for any organization to comply with industry standards and that's future ready
Make your Monday mornings something to look forward to, every time.
Effortlessly power your business solutions with Ephesoft and MicroGenesis, your partners in growth and hassle-free documentation.