Enterprise Document Management Suit – DSTORE
Go Paperless. Leverage our smart and intelligent document management solution to digitize document repositories
Organizations across the world are realizing the value of our document management services to effectively manage, access and disseminate information digitally.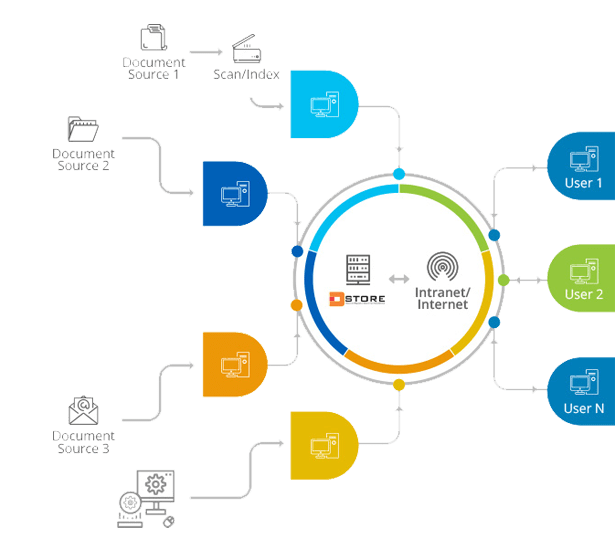 capture, store, search, govern, deliver, archive documents

Centralized, distributed, or remote access

Web based document management

Scan, index & archive documents

Maintain documents in a folder structure

Access documents using standard browsers


Immediate access to new documents

Integration to existing tools (E.g.. ERP etc.)
Unified & automated platform for document management needs
DStore unifies disjointed document workflows to create a centralized repository of knowledge.

Visible repository

Democratized access

Advanced document capture

Highly compatible integration
Rich integration capabilities with existing legacy and cloud platforms, ERP, Email, HRMS, SAP, etc. with in-built search capabilities

Efficient storage
Native file format storage and non-user based license for easy extraction, transformation, validation and cost efficiencies

High-end security
Multi-level security based on user group, profile, document type, department, and locations, configured reports and alerts for total traceability and transparency
Visible repository
Unified storage platform for all kinds of documents, scanned images, email content to ensure no loss of` data.
Democratized access
Zero internet dependencies enabling easy, all time access to ensure no information is left behind
Advanced document capture
Advanced document capture solutions with next generation OCR capabilities, browser based DMS, diverse document processing, and database matching
Eliminating the paper trial has never been easy
DStore brings in myriad benefits with effective digital document governance capabilities
Delivering efficiencies everywhere
Delivering efficiencies everywhere
Browse based DMS for easy retrieval, sharing and visibility of information brining in efficiencies of cost, time, resources and infrastructure
Streamline workflows
Drive organization productivity with highly collaborative workspace, prevent loss through recovery solutions and device and platform agnostic secure access
Ensure compliance
A single version of truth ensures better regulatory compliance and total privacy of data. The unified storage unifies diverse data trails to avoid data duplication